GAINESVILLE, Fla. — Florida's starting quarterback, Will Grier, has been suspended indefinitely for violating the N.C.A.A.'s policy on performance-enhancing drugs.
The university announced the suspension at a news conference Monday. Grier, who failed a drug test, said he took an over-the-counter supplement.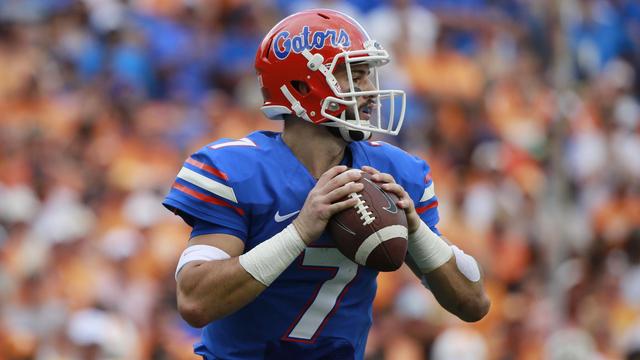 Here are three things to know about what this means for Florida, and Grier, moving forward:
1. Florida's SEC East title chances lie with Treon Harris.
Given the state of the SEC East, Florida's status as the division front-runner might not be shaken by this obviously significant development. The front-loaded conference schedule has the Gators at 4-0 in SEC play with head-to-head wins against Tennessee, Kentucky and Missouri. If Harris can get Florida a win in the Georgia game, it might be enough to lock up a spot in Atlanta.
Right now, with both Grier and Bulldogs running back Nick Chubb out of the game, Florida-Georgia looks like it will open somewhere around a pick 'em.
Harris started the last six games of 2014 and the first game of 2015 before Grier took hold of the starting job against Tennessee in Week 3, a game Harris missed because of a suspension. The sophomore was much better as a runner than a passer (49.6 percent passing in parts of nine games) in 2014 and will need to improve his accuracy to keep Florida's offense balanced. The offensive line is not in a state where a power running game seems favorable against SEC foes, but that group will be responsible for helping Harris succeed on this big stage with heightened expectations.
2. The school will appeal the suspension length.
The suspension for use of a banned substance is one calendar year, plus a loss of a year's eligibility. Florida announced Monday it will help Grier appeal the length of the suspension in hopes the redshirt freshman only misses the rest of the 2015 season for what has been explained as an honest mistake.
"Obviously, this is hard. I don't want anybody to forget, we're in this for these young men. We feel for him; we feel his pain. He had a chance to address the team and spoke from the heart. One of the things he expressed ... is the opportunity you have to maybe affect somebody else's life and understand that we can learn from this," McElwain said Monday.
"As a university, we will appeal this, and we support Will, his family obviously in every way possible. And yet, we also know there's certain steps that go along the way."
A one-year suspension would basically wreck Grier's 2015 and 2016, as he would also miss the first six games of next season and be listed as a redshirt junior when he takes the field.
Florida can commit to Harris for the rest of 2015 but cannot create a healthy quarterback competition for next season if Grier is held out until midseason. If the NCAA allows Grier to return to the team after 2015, he will be able to re-establish himself in spring practice and return for 2016 ready to pick up where he left off.
3. This setback not only hurts the Gators in 2015, but Grier's development moving forward.
To say that hopes were high for Grier would be an understatement. Through six games, Grier totaled 1,204 yards and 10 touchdowns on 65.8 percent passing at 7.5 yards per attempt, numbers that put him on pace for the best statistical season for a Florida quarterback since Tim Tebow in 2009.
McElwain and offensive coordinator Doug Nussmeier had done a good job catering the offense to Grier's strengths, allowing him to get comfortable with quick passes and building his confidence as a starter in the SEC. Grier was not going to be the best quarterback in the SEC in 2015, but he'd be on a short list for that accolade in the next year or two if this season's production continued.
4. He will not be banned from all team activities.
It will certainly help Grier to practice with the team during his suspension, but missing out on those game reps puts a ton of pressure on the redshirt freshman quarterback to push himself to get better while out of the lineup. Grier has the full support of his teammates and coaches, he will not get the same opportunities to develop while serving his suspension.
5. Florida will not be forced to forfeit its victories.
Because McElwain and Florida's athletic department learned of Grier's suspension following the Missouri game, the Gators will not see any of their six victories wiped away. Florida became bowl-eligible on Saturday at Mizzou and will now look to finish out the season strong in hopes of getting to the SEC Championship Game representing the league's East division.
http://www.cbssports.com/collegefootball...gs-to-know